Regardless of the type of a meeting, use PROMAN Meeting Report to take minutes. Different types of meeting reports usually have the similar structure, and the process can be sped up by using standardized layouts and functions.
On this page you can find examples of meeting minutes and file notes. We would be happy to give you a free trial of the software with a sample project, or to show you in a presentation how easy it is to write minutes! Contact our Hotline to start saving time.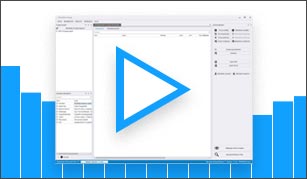 No time for a consultation or a demo presentation? Not a problem!
Our CEO Roland Pezzei shows you in a short summary how to take minutes using PROMAN Meeting Report.
Meeting Report
The header of the report can be modified in just a few simple clicks. Change the date, place, start and ending time, participants, absentees, and creator using our intuitive interface. You can drag and drop participants directly from the Address manager.
Agenda items and decisions that have already been discussed and documented in the previous meetings, are displayed in the history. The items that have not been completed, are automatically included in the next report. By means of navigation and the simple handling of the chapter framework, you can quickly create a clear structure.
Example of a planning and project management meeting.
Attachments, such as copies, documents, and handouts can be attached to the relevant point in the report, printed, as well as sent along with the report. With PROMAN you can have all the relevant data in one place – we provide the basis for comprehensiveness in your projects.
Meeting preparation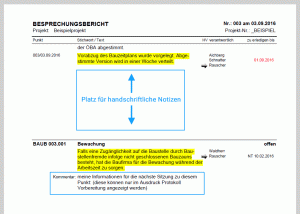 You can prepare for the next meeting at a touch of a button. This function automatically creates space in between meeting points for handwritten notes and comments. You can decide in advance which items you need for the meeting. This way you can prepare for your meetings quicky and in a more structured way. No meeting point will be forgotten.
See an example of meeting preparation.